This super-strong epoxy fills holes, cracks, gaps and dents of any size or depth – without shrinking or popping out. Super Mend is impervious to water, gasoline, diesel fuel, motor oils, transmission and hydraulic fluids, anti-freeze and most chemicals. Once cured, Super Mend can be sanded, ground, drilled, tapped or sawed. It will accept self tapping screws and can be painted with most paints.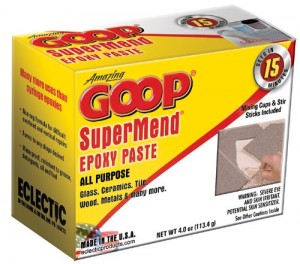 SuperMEND an off-white, versatile all purpose, high density two-part epoxy paste
It can be used to fill holes and cracks of any size or depth, as well as for common repairs
Bonds to glass, ceramics, tile, and metals. Resists water, chemicals, fuel, alcohol, grease
Withstands heat up to 150 °F / 66 °C. Fast drying – Sets in 15 minutes @ 70 °F / 21 °C
Repair gutters, steps, sundecks, porches, concrete floors and walls, tanks, windowsills etc.
Available in 4oz KIT