https://creativewholesale.com/collections/e6100-glues-1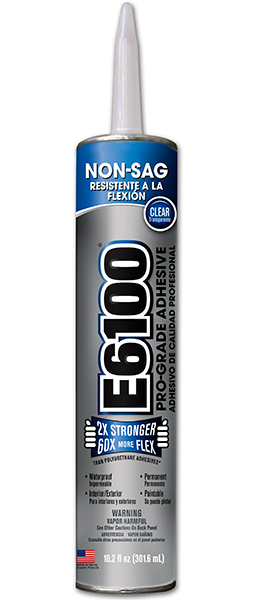 With all of the strength and adhesive properties of E-6000, E-6100 is the non-sag formulation that won't slump or run, allowing for maximum control This adhesive is ideal for overhead and vertical use, such as HVAC system repair or wall paneling installation.
Use E6100 wherever nails won't work, or for such vertical applications as sign installation and roof flashing. E-6100 is also the only authorized installation adhesive for a leading laminate counter top manufacturer
Flammability: NONE, this product is non-flammable.,
Flexible: Does not become brittle in cold weather; can bond items subject to vibration
Chemical resistant: Safe for applications exposed to dilute acids and dilute caustics.Abrasion resistant: Great for bonding objects subject to normal wear
Waterproof: Can be submerged in fresh and salt water after complete cure.
Paintable: Paint to match surrounding area or make UV-resistant Bond metal to plastic appliance housings , Caulk or seal pools and spas , Bond housings on monitors and motion detectors
Applications: HVAC system repair , Secure wall paneling and metal signage , Install acoustic ceiling tiles Non-slump: Won't sag, drip or run on vertical or horizontal applications Install towel racks and other fixtures and Much more
E-6100 CLEAR – 10.2oz Cartridge
E-6100 BLACK  – 10.2oz Cartridge
E-6100 GRAY  – 10.2oz Cartridge
Available in 10.2 ounce caulking tubes, in black, gray & clear. 12 tubes in a case