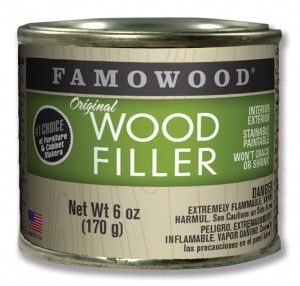 Famowood solvent-based wood filler has been the first choice of woodworking professionals for more than 50 years.
Whether you're masking small or large defects, Famowood can be used inside or outside and takes stains and paint easily – making it ideal for any custom project.
Famowood spreads evenly into cracks and holes without shrinking, crumbling or cracking and requires very little sanding to achieve a desired finished look.
First choice of woodworking professionals for more than 50 years
Saw, drill, sand, plane and nail, just like real wood
Takes stains and paints evenly with minimal sanding
Spreads evenly into cracks and holes without crumbling cracking or shrinking
Made in the USA
Available in 18 colors
Saw drill sand plane and nail once dry
Solvent based wood filler
Takes stains and paints evenly
Water and weather resistant
Available in Pint Cans, net weight 23 ounces