Product Description
One of the strongest, most flexible, all-purpose adhesives ever created.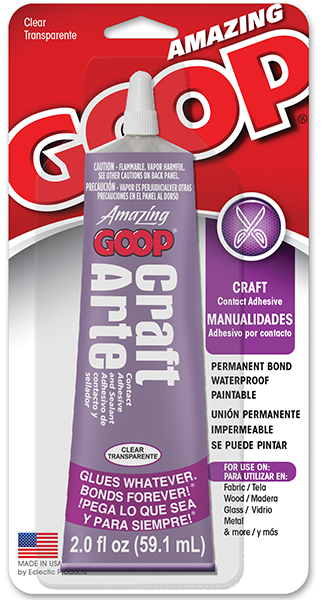 Amazing Goop Craft is the perfect contact adhesive to use on your favorite projects because it seals and sticks to a variety of materials including canvas, ceramic, fabric, glass, leather, metal, rubber, vinyl and wood. It's also waterproof, washer/dryer safe and dries clear.
Industrial Strength, Flexible, Water-proof and Paintable.
High strength craft adhesive that's ideal for bonding wood, fabric, leather, ceramic, glass, metal
Nozzle tip is great for precise applications
Clear, waterproof and paintable
Washer/dryer safe
Made in the USA
Contact adhesive and sealant
Flexible hold
Nozzle tipped applicator
Washer dryer safe
3.7 Ounce